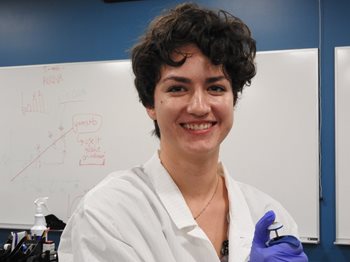 Note: Here's an inspiring story I wrote for Northeast Wisconsin Technical College, where I earned my marketing degree.
NWTC student Natasha Clark has come a long way from her days working at the check-out counter of a Lakewood grocery store. After graduating from Laona High School she tried a semester of college, but it wasn't a good fit. At age 23, she wanted to return to college. She wasn't sure how, but she knew she wanted something better for herself and her 2-year-old daughter. Going online one night she came across the NWTC Lab Science Technician program, and it changed her life. She enrolled in the introductory year of the LST program in 2016 and will be one of the first graduates of the college program this spring.
"I drive an hour and 20 minutes every day to school, but I love it."
An Associate Degree is just the first step toward Natasha's goal of becoming a research scientist. "Since I started taking classes I really fell in love with research, and I've decided to go on and earn my bachelor's degree and hopefully, eventually earn a Ph.D.," she said.
She is steadily moving toward this goal. For the past year, she's interned in the physical testing lab at Nature's Way in Green Bay and will soon transfer to the microbiology lab. She is wrapping up an independent research project at NWTC and plans to study cellular molecular biology at UW-Green Bay next fall. NWTC biology instructor Angelo Kolokithas has witnessed Natasha's transformation from a shy student to a confident, hardcore scientist.
"She's like a sponge in every class, and she's a good thinker."
"She's the one always asking the thought-provoking, ethical questions," he said. Angelo and his colleagues developed the LST curriculum with a two-fold mission, to be rigorous enough to transfer to a bachelor's degree and practical enough to teach skills for the workplace. Students in the program experience how research is done in real research science labs.
"Students can actually perform their own scientific research, which is unheard of at most tech colleges," Angelo said.
Natasha said her interest in science is what keeps her motivated to learn more. The hands-on lab experiences, small class sizes, and personalized attention from her instructors made her learning experience even better.
"I gained a lot of practical knowledge regarding the tools and the procedures used in labs."
She hopes that someday her research will lead to a significant break-through or discovery. "This program really helped my self-confidence. I wasn't even sure if I'd be able to do it, but I got here and everyone was so helpful and nice. They really gave me the boost of self-confidence I needed to go on to school," she said.
Once a mild-mannered reporter and editor, Joan Koehne has taken on the persona of her alter ego, Wonder Writer, saving the world one word at a time. In 2017 she went up, up and away to launch a writing services business, Writer to the Rescue, a division of Packerland Websites. A 2017 college graduate, Joan earned highest honors and the Marketing Student of the Year award.