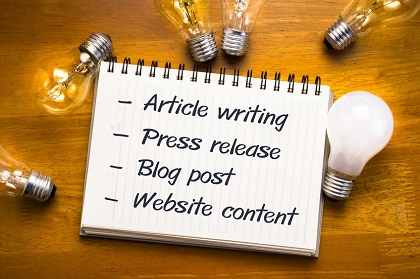 I often hear this comment from clients: "I'm not a writer. Can you help?" That's when I become their ghostwriter. I take their thoughts and ideas, organize them, and write them down. Ghostwriting is a well-established and well-accepted practice in the age of digital marketing.
Why hire a ghostwriter?
Here are five reasons why you should hire a ghostwriter:
It saves you time. Managing a business requires time and attention, and outsourcing some of the work to a ghostwriter lets you focus on your core business. Businesses have hired marketing professionals for years, and today's digital marketing material includes website content, blog articles, and social media posts.
You don't have to be a talented writer. The business owners I write for are great communicators, but they don't always have confidence in their writing. As a ghostwriter, I am the bridge between ideas and words.
You don't have to be a techie. Clients rely on Writer to the Rescue to post their blogs, upload their website content, and do other techie work. I work with a "league of superheroes" at Packerland Websites who are digital media professionals helping you get found on the internet.
You have input from start to finish. Before I write for you, we will meet at your business (if possible) and have a long talk. Collaboration helps the content ring true. In my writing, I will try to convey your voice, attitude, and style, so the content is authentically yours. Before posting or distributing, I will send you a draft to review and revise.
No more procrastinating. A key to increasing business revenue is to create a compelling marketing message that addresses your prospects' needs. Business owners know this, but they don't always set aside the time for regular follow-through. When you work with a ghostwriter, your blog will get done. Your website content will get done. After years in journalism, I am good at meeting deadlines.
End goal is conversions
The job of a ghostwriter is to engage the audience, convey your brand, and build your authority and expertise in your industry. The end goal is conversions. Contact me to get started as your ghostwriter for articles, press releases, website content, blogs, and marketing materials.