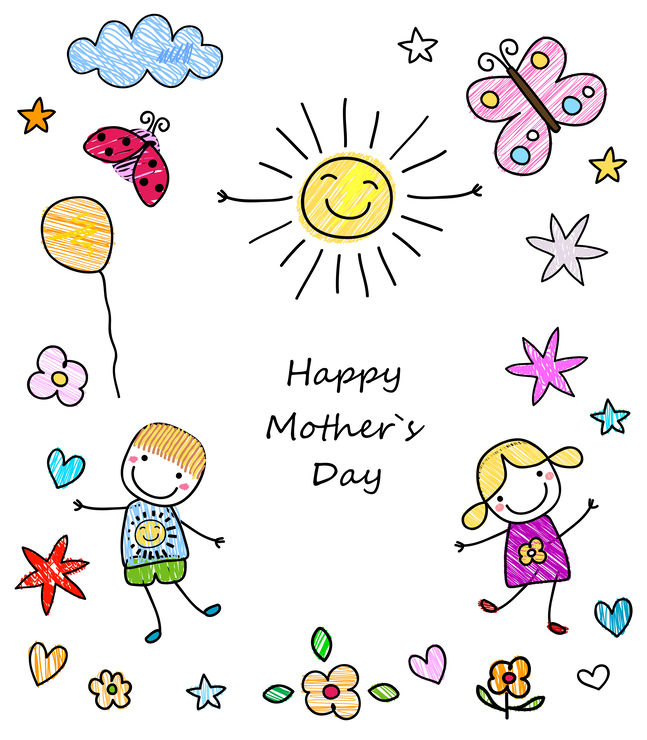 The tables were turned in 2019 when I underwent a stem cell transplant to treat leukemia. I was accustomed to being the caregiver for our two kids, but last summer, they were my caregivers instead. From June to August, I lived in an apartment complex close to Froedtert Hospital in Milwaukee. A dozen different caregivers stayed with me, including our two kids, Will and Janet.
This Mother's Day, I'm reminded of the time we spent together; the laughs and the love.
Major Life Changes for All of Us
A year ago, the three of us were undoing major life changes. In May 2019, Will earned a Master's degree in epidemiology at Emory University in Atlanta. Since he didn't start work at the Philadelphia Health Department until August, he became my weekday caregiver by default.
Janet married Tyler Roberts on May 4, 2019, after two years of long-distance romance. I know she was looking forward to life as a newlywed, yet she made me this offer, "I can be anywhere you need me to be." That made my heart melt. Janet became my weekday caregiver in August, and when I broke out with an itchy rash in September, she made the 5-hour trip from her home in Washburn to get me to the doctor.
A Mother's Day Message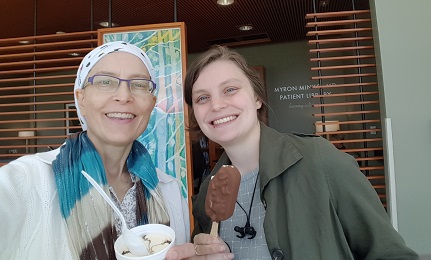 Despite the difficultly of undergoing cancer treatment, I have many happy memories of summer 2019. I remember enjoying an accordion concert in the dining hall. I laughed when the musician chose Janet and Tyler to accompany him with odd instruments. Janet and I had a lot of fun dancing to Dance Dance Revolution and taking turns playing piano and singing songs. She made me homemade gummy bears and crepes.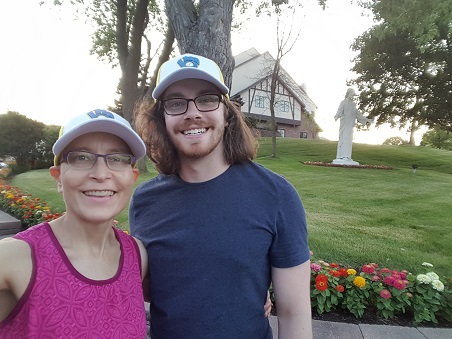 With Will, I remember his lame jokes that helped lighten the mood. One night he performed an off-the-cuff "rap" song before "wrapping" my arm to keep my PICC line dry in the shower. He's a smart guy, and I liked to talk with him about current events, medical topics, and anything else that popped into my head. He baked chocolate chip cookies and chicken thighs.
Walking, Singing, Playing Together
The kids drove me to appointments, made sure I followed my doctor's instructions, cooked meals, and did laundry. We played board games and dice games, shot pool, and played ping pong. We took walks around the apartment complex and the Mequon Nature Preserve.
Both of the kids are great singers, and I loved hearing them sing along to "Anchor's Away." I'd get myself motivated for the day by listening to marches, and "Anchor's Away" played every time.
Out of Adversity Comes Blessings
One thing I learned this summer is this: out of adversity comes blessings. The kids and I were so blessed to spend time together – not just a holiday weekend or 30-minute phone call but every day and every night for weeks at a time. Our shared experiences drew us closer. Will and Janet were there when I needed them, helping me through the tough times and enjoying the good times.
I am now cancer free, and I'm so grateful our kids helped me reach this milestone. They were wonderful caregivers, and I'll always remember the summer we spent together.
I might even send them a Mother's Day card this year.