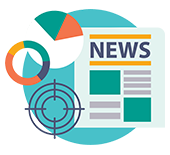 Newsletters can be an essential part of an organization's overall marketing and communications strategy, for example, the Oconto Falls School District. By periodically distributing information that engages your clientele, you build brand awareness and drive sales. Newsletters provide a platform for you to tell your story. Your digital or print editions will keep your brand top-of-mind for clients. After reading your articles, clients may be more likely to think of you when they need your product or service and may be more willing to refer you to others.
Direct mail
Writer to the Rescue offers professional writing and editing services for newsletter clients. We partner with graphic designers and printers who create eye-catching publications. We work with postal professionals who know efficient strategies for direct-mail campaigns.
E-Newsletter
For some organizations, email marketing campaigns better suit their product and audience. Writer to the Rescue is experienced in designing, writing, and editing e-newsletters in Constant Contact and MailChimp. We offer flexible options and prices to meet your specific needs.
Key features of newsletters:
Show what's new and innovative in your industry
Explain how your products and services are meeting the needs of clients
Build brand awareness and grow a following that's engaged in your brand
Offer deals or specials to entice readers to act
Provide a valuable resource of How-to Guides, Recipes, Alerts, Calendar of Events, Recommendations
Highlight your staff's expertise and accomplishments
Make people smile with cartoons or jokes that show your lighter side.
Build brand association
The design of the newsletter can include the vital elements of your organization such as logos, colors, vision/mission statements, and slogans. In addition, the design can mimic your website, building brand association for readers. To connect your digital newsletter with your website, we insert "Read More" links that seamlessly transition readers to your website where conversions happen.
Contact Writer to the Rescue to professionally write, edit, design, and distribute your organization's newsletter.