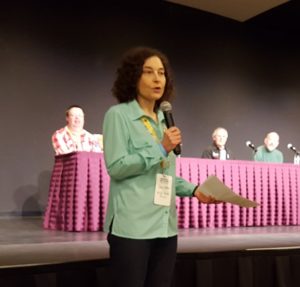 At the Untitled Town Book and Author Festival last weekend I gained inspiration from the writing professionals who told their stories of success. Writing can be a lucrative business. Here's what they recommended:
Have confidence in your writing abilities: Writers have a marketable skill. Everyone can write, but not everyone can write well.
Be inquisitive: Always be looking for good topic ideas to pitch to clients. Pitch ideas based on what you know, who you know, what's trendy, and what deserves attention. Find something from your background that relates to the topic.
Match styles of writing: Read the blog or publication before you write your articles to get a feel for their content.
Value your time: Charge what you think you're worth, not what you think the customer expects to pay.
Set your price: Narrow down the scope of the job and estimate the time it's going to take before you set a price. Offer to revise your content twice before charging an additional fee.
Build your reputation: Pay-per-click ads on Facebook can be effective, but nothing compares to word-of-mouth referrals. When you complete a project, ask your customers to leave a review.
Meet deadlines: Writers who miss deadlines frustrate their clients. Plan ahead, set a schedule, and use your time wisely. Hit your deadlines every time.
Set goals: Have a target in mind to reach, like quarterly sales or the number of projects completed in a month. Goals give you something to work toward.
Develop an effective website: Your website is your storefront, so make sure it represents you well.
Get entrenched in a niche: By specializing, you can have a longstanding and profitable relationship with a client.
Try out some of these ideas to earn some money for your writing.
Once a mild-mannered reporter and editor, Joan Koehne has taken on the persona of her alter ego, Wonder Writer, saving the world one word at a time. In 2017 she went up, up and away to launch a writing services business, Writer to the Rescue, a division of Packerland Websites. A 2017 college graduate, Joan earned highest honors and the Marketing Student of the Year award.