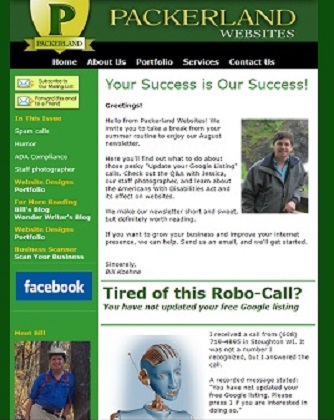 Do you remember this memorable phrase from The Wizard of Oz: "Lions, Tigers, and Bears, Oh My!" My husband, Bill, borrowed the jingle for the headline of the Packerland Websites' E-newsletter. In the subject line was "Photography, Robo Calls, and ADA Compliance, OH MY!" It was his way of linking together three unrelated topics.
We recorded a 51% open rate on the newsletter, far outpacing the industry average of 11%. Getting people's attention is the first step to enticing them to read an article, so it pays to write strong subject lines and headlines.
Here are 10 tips for writing "click bait" subject lines and headlines.
1. Use Numbers: Make your content easy to scan by creating a list and writing headlines like these: 5 Must-dos…, 10 Tips for…, and 3 Steps to…
2. Keep it Conversational: Avoid long words or industry jargon your audience might not understand. Know your audience's level of familiarity with your subject, and don't write something so technical it will be a turn-off to readers.
3. Touch a Nerve: What are people unsure about? Headlines can draw people into an article by taking advantage of their discomfort. For example, start your headlines with phrases like: What you need to know about… and Be Wary of…
4. Tantalize: Everyone wants to know the latest gossip, so headlines should reflect that craving. Start with words like: The secret to… or The latest in…
5. Make it Snappy: Spend time brainstorming and playing with words. The way Bill recycled the Wizard of Oz jingle of Lions, Tigers, and Bears is a good example of a catchy subject line.
6. Ask a Question: Pique the interest of the reader with a question that is answered in the article.
7. Tell How It's Done: "How To" articles are wildly popular, so topping these articles with a headline that begins "How to…" is a sure way to invite the reader to learn more.
8. Be trendy: Writing about current trends or future predictions can set you apart as a thought leader in your industry. Highlight these articles with headlines that begin with Why 2018 is the year of… or The Latest Trends in…
9. Match the Headline to the Space: How your headline appears is something to consider. Font color, style and size should appeal to the reader. The length of the headline should fill the space available. In the case of an E-newsletter, the largest, boldest headlines should be at the top of the page, with smaller, lighter headlines in secondary stories.
10. Spell Check: Do you remember the time the local newspaper misspelled Chicago in a Green Bay Packers/Chicago Bears article? It's easy to mistype a word. That's why proofreading and spell checking are so important.
Bonus Tip: Trust a professional. Over my 10 years as a journalist, I wrote thousands of headlines and articles. Contact me to help with your next writing assignment.
Once a mild-mannered reporter and editor, Joan Koehne has taken on the persona of her alter ego, Wonder Writer, saving the world one word at a time. In 2017 she went up, up and away to launch a writing services business, Writer to the Rescue, a division of Packerland Websites. A 2017 college graduate, Joan earned highest honors and the Marketing Student of the Year award.