What to know a secret?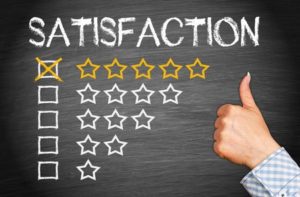 I have discovered something that is super helpful in content marketing. To get to the heart of what makes a business tick, I read the reviews left by their clients. In just a few sentences, I learn what sets them apart from their competition.
My husband and I never book a resort without reading the reviews. People read reviews before purchasing all sorts of products and services. Everyone knows the power of word-of-mouth advertising, and an online review is word-of-mouth on a colossal scale. Reviews carry more credibility that advertisements because the reviewers are not on the payroll.
How is your business positioned?
Your best qualities come out in a review. Pretend you run a lawn care business. There are only so many ways to cut a lawn and apply fertilizer and weed killer. When your clients leave reviews saying you work fast and are affordable, you start to see why people like working with you. Price is important to these clients. When others say you're reliable and answer their questions, then you know they appreciate your customer service.
In the world of marketing, this is known as positioning. The market perceives your business as a cheaper alternative to other lawn care services and perceives your staff as more approachable and quicker than others.
Sometimes your worst qualities come out in a review and knock you down, but bad reviews can provide valuable, albeit painful, feedback.
How can a review surprise you?
Reviews sometimes tell you what you don't know about yourself. One of the reviewers said Writer to the Rescue cut through the clutter of the information he provided. I didn't recognize this as one of my strengths. Now it has become a selling point.
Testimonials are useful because they can identify gaps in your branding. These gaps show up in reviews that leave you thinking: "That's what they like about me? I really want them to like this instead!"
How can reviews improve your SEO?
When writing website content, I like to read through reviews to become familiar with the jargon of the industry. It is a great way to learn the keywords people use and can be worked into the content. These keywords are important to improving your Google ranking, otherwise known as Search Engine Optimization (SEO). The robots that index the internet pick these key words to add to their database. When someone types these keywords into a search bar, relevant websites rank higher on search results pages.
How should I ask for a review?
The best way to ask for a review is to email customers, thank them for their business, ask for a review, and provide a link to your Google account. It's as simple as that.
So now you know one of my secrets to content writing. After reading reviews, I know the features that distinguish my clients from the competition and promote these features to their target market. Contact me to find out how to use this secret to your advantage. As the Wonder Writer at Writer to the Rescue, I write website content, blogs, news releases, and a wide range of marketing materials.
Once a mild-mannered reporter and editor, Joan Koehne has taken on the persona of her alter ego, Wonder Writer, saving the world one word at a time. In 2017 she went up, up and away to launch a writing services business, Writer to the Rescue, a division of Packerland Websites. A 2017 college graduate, Joan earned highest honors and the Marketing Student of the Year award.