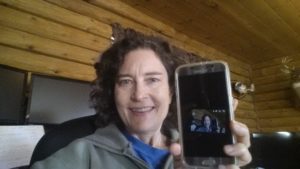 One of my business clients described herself as a "dumb blonde with a Smartphone." That certainly wasn't true, but it's a feeling many of us Generation X-ers can relate to. We didn't grow up in the digital age, with a phone in our pocket, a laptop on our desk, and the world at our fingertips. Some of us didn't even take a typing class.
Dinosaur in the digital age
When I enrolled at NWTC in 2015 I was carrying a flip phone. That pretty much sums up my digital literacy at the time. To get ahead in today's workforce, it helps to be tech savvy. It's one of the reasons I returned to college. I wanted to feel more comfortable using the technology most people take for granted. I really challenged myself by enrolling in the Social Media Marketing program.
Marketing instructor Ronnie Coyle once told me "Age doesn't matter." When it comes to adapting to the digital world, what's important is a willingness to learn, experiment, and spend time with the technology.
Learn as you go
My Microsoft Word class laid the foundation for working on posters, reports, and presentation materials. My Excel class helped me with accounting homework. Over time, using these programs became more comfortable and intuitive as I kept experimenting. Plus, I learned the power of the phrase "Just Google it." Chances are someone has already asked your question, and someone else has answered it. I view Google as an embarrassment-free way to ask a really silly question. In my social media marketing classes I created a Twitter handle, Instagram account, and WordPress site for blogging. When I told my sisters "You should follow me on Twitter" they just laughed because they knew I was way out of my league. What they didn't realize is that I was making progress.
Find a buddy
I know I have plenty of company when I say my kids taught me almost everything I know about using technology. My daughter was my go-to person, and she helped me take my first selfie and design my first marketing poster, created for the NWTC golf outing. After enrolling at NWTC I took the orientation course for Blackboard where I learned how to submit assignments and use the online discussion board. In my NWTC classes, I was an observer, watching and learning how to create, share, and change a Google document and answer questions in Kahoot!, an online quiz game.
Catching on
It all took patience and practice, and I'm still learning. I know NWTC has my back, with academic resources and classes to help me continue learning. If you recognize your own shortcomings while reading this article, take heart! If a dumb brunette with a flip phone can jump into the digital age, so can you.
ABOUT THE AUTHOR: Joan Koehne, of Abrams, is a 2017 graduate of NWTC. A former newspaper editor, she co-owns Writer to the Rescue, the content writing division of Packerland Websites.
Once a mild-mannered reporter and editor, Joan Koehne has taken on the persona of her alter ego, Wonder Writer, saving the world one word at a time. In 2017 she went up, up and away to launch a writing services business, Writer to the Rescue, a division of Packerland Websites. A 2017 college graduate, Joan earned highest honors and the Marketing Student of the Year award.