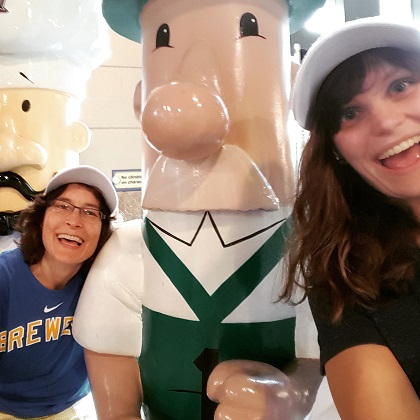 To everyone who hopped on the Milwaukee Brewers' bandwagon this October I say "Welcome!" and "What took you so long?" I've been a fan since 2011, and I had the once-in-a-lifetime chance to be at Miller Park for Game 6 of the National League Championship Series. Game 6 was a heart-pumping, high-fiving three hours of fun. The electric atmosphere was powered by 43,000 fans plugged into every pitch, every swing, and every nuance on the field. The amazing journey ended a day later and just one win away from the World Series.
In honor of that momentous Game 6 I have compiled 6 reasons to stay on the bandwagon and become a loyal Milwaukee Brewers fan for life.
1. Milwaukee Park is a blast
I've tailgated, toured, and tipped a few back at Miller Park 3 Must-dos at Miller Park. What a fun atmosphere to watch a game. The sausage races are a highlight. So is the sing-along during the 7th inning stretch. Be sure to make a sign, and maybe you'll see yourself on the Jumbotron, like me!
2. Be part of the excitement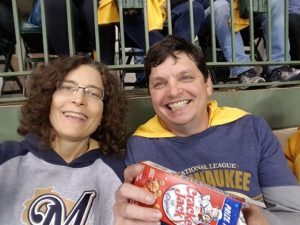 Brewer fans share a special bond. They're part of a community that has its own language, knows the players by name, and shares an enthusiasm for their team. My earliest conversations about the Brewers occurred in an unusual place—the church sacristy. Our priest was a big Brewers fan, and I wanted to be a part of the excitement.
3. Summer lasts forever
Baseball is a summer game, and the 162-game MLB season makes it feel like summer, no matter what the weather is like outside. The excitement starts in April, and the team was still going strong in October. I remember driving through a blizzard and listening to a game on the radio. It was surreal! The beauty of Miller Park is its roof. Rain, snow, sleet or cold…you know the game is on. Once you get inside the ballpark, it feels like summertime, no matter the season.
4. Duh, it's a game
Players were having fun this season, and it showed. As a Brewers fan, you don't need be to a baseball purist or stats expert to enjoy the game. My baseball was mostly played in the backyard at home, and some of that simplicity translates to the big leagues. A hit brings happiness, and an out, disappointment. At their core, games are fun, and I have fun following the team.
5. Gotta love Ueck
I don't watch much TV, and I'm not sitting still for a 3-hour game. Luckily, Brewers games are on the radio. I tune in when I'm driving or working around the house. You gotta love Bob Uecker, one of the Brewers' radio announcers. He's always good for a laugh and tells great stories about people and ballparks. Plus, he's good at calling a game.
6. The team is winning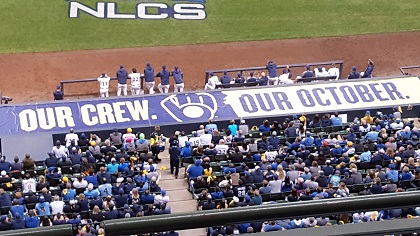 Brewers' players, General Manager David Stearns, and Manager Craig Counsell have done wonders this season. The team compiled a 96-67 record, won the National League Central Division, and fell just one game short of the World Series. The pennant chase was like icing on the cake. What a thrill to be caught up in the excitement.
I'll follow the team through thick and thin. How about you? The 2019 season will be here before you know it. I hope you'll be a part of it.
Once a mild-mannered reporter and editor, Joan Koehne has taken on the persona of her alter ego, Wonder Writer, saving the world one word at a time. In 2017 she went up, up and away to launch a writing services business, Writer to the Rescue, a division of Packerland Websites. A 2017 college graduate, Joan earned highest honors and the Marketing Student of the Year award.