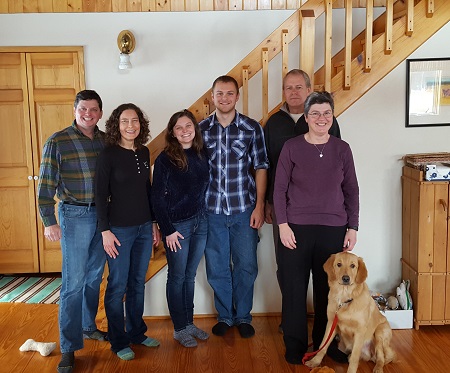 Life is marked by a series of milestones. My husband, Bill, and I experienced one of those milestones this weekend. We drove to the U.P. to meet our daughter's future in-laws. Our daughter, Janet, will marry Tyler in May.
Tyler's parents and brother were very gracious hosts. They gave us the most precious gift they could—the gift of their time. They welcomed us into their home and made us feel as if they had nothing better to do than spend the weekend with us.
I brought along Janet's photo albums to show Tyler and his family some of the milestones of Janet's life. I knew it would be fun to page through the books. What I didn't bargain for was the melancholy I'd feel looking at those photos.
Janet has marked a lot of milestones in her life: her first haircut, her first day of school, her first time traveling out of the country. In February, she hit another big milestone when Tyler proposed.
While we paged through the albums looking at the kid she had been, Janet sat at a desk nearby with a photo of the grown-up woman she's become. She was addressing Save the Date postcards. In the Save the Date photos, Janet is in Tyler's arms, not mom's or dad's any longer. That's a milestone I'm still getting accustomed to.
Being a mother-of-the-bride is rough on the emotions some days. I couldn't be happier that Janet is all grown up and ready to share her love and her life with Tyler, but part of me still thinks of her as our little girl. I can't comprehend how she could be ready to walk down the aisle and into a new life as Tyler's wife. How is it possible when I can still picture her as a baby in my arms?
After our weekend with Tyler's family, I feel more confident than ever that she's making the right choice for a husband. She's marrying into a family that is kind and loving.
Their May 2019 wedding will be just one more milestone on life's journey. I'm hoping that the old adage is true: I'm not losing a daughter, I'm gaining a son.
Once a mild-mannered reporter and editor, Joan Koehne has taken on the persona of her alter ego, Wonder Writer, saving the world one word at a time. In 2017 she went up, up and away to launch a writing services business, Writer to the Rescue, a division of Packerland Websites. A 2017 college graduate, Joan earned highest honors and the Marketing Student of the Year award.