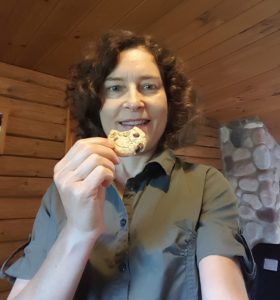 Today marks the 6-month anniversary of Writer to the Rescue, so I decided it's time to reflect on my career change. Three things stood out.
No. 1: The classroom prepared me for the real world.
I was an NWTC marketing student and an intern at Packerland Websites when I launched Writer to the Rescue. In my first month, I saw my studies come to life. The business people I met were real-world examples of the marketing concepts I was studying in college. Boy, could they give a convincing elevator pitch! I think they read the same Selling Principles book I did! What I was seeing in the field reinforced what I was learning in the classroom. The experiences I had as an intern verified that my class time was well spent, and these experiences helped me prepare for full-time work in the field.
No. 2: The cookie jar is really close by.
How can I be successful working from home? This was one of my questions when I started Writer to the Rescue. The answer: Treat it like a business, and success will come. I have a space dedicated to work. I simply walk up the stairs to get to my "office." Once I'm there, I'm working. I have set hours, which I track every day. But it's not just the cookie jar that's close by, tempting me. The urge to take a nap is hard to resist! From my desk, the couch is 2 steps away, and the bed is 10 steps. Yes, I've succumbed, but not that often. I'm happy to report that working from home is workable.
No. 3: Don't do it alone.
Leaving my job was scary, but preparing for a career change made the departure easier. I met with a business consultant before opening Writer to the Rescue, and he helped me develop a mission statement and vision statement and an approach to basic business operations. He helped calm my fears and provided the guidance I needed to make decisions about my career. The end result left me feeling confident about my future. Now that I'm working as a writer, my husband Bill Koehne of Packerland Websites is my go-to person. I feel much more secure about my career change because I have an experienced business owner to offer support. Mentors are invaluable!
Once a mild-mannered reporter and editor, Joan Koehne has taken on the persona of her alter ego, Wonder Writer, saving the world one word at a time. In 2017 she went up, up and away to launch a writing services business, Writer to the Rescue, a division of Packerland Websites. A 2017 college graduate, Joan earned highest honors and the Marketing Student of the Year award.