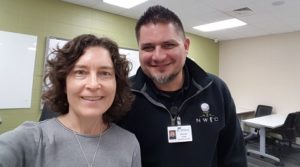 I remember the uneasy feeling I had when my work schedule interfered with the Customer Service class I wanted to take at NWTC. I really didn't like the idea of taking an online class. I was afraid I wouldn't learn as much, and I thought I needed that weekly class time to keep me on track. As it turned out, I shouldn't have worried. I completed my Associate degree by taking about half of my classes online.
10 strategies I used when enrolled in an online class
1. Know what's expected.
At the start of class I picked up my textbook and read through the syllabus, course calendar, and emails from my instructor.
2. Keep it organized.
I created a folder on your computer for each online class and saved all of my documents to this folder. Sometimes I created subfolders to keep track of specific projects or multi-step assignments.
3. Listen to your advisor.
I checked with my marketing adviser when enrolling in a coding course. He suggested the in-person class because I didn't have a solid background in coding. Your advisor should know what classes are tricky to take online. Just ask!
4. Plan for Success.
My online instructors assigned a "Personal Plan for Success" worksheet. It made me plan a strategy for the class (I did most of my course work on Sundays to avoid conflicts with work), plus a backup plan for handling "obstacles," like unexpected computer problems.
5. Be ready to roll!
Only 2 weeks into my Customer Service class, a big project was due, the Service Culture Report. I couldn't believe how much work it was, but it turned out to be one of the best learning experiences of the class.
6. Get friendly with your keyboard.
Plan to do a good amount of writing. Each week I posted comments and responses on the discussion board and typed up my assignments. If you're not a strong typist, maybe online courses aren't for you.
7. Ask for help.
The NWTC instructors are really helpful! I remember emailing my instructor, Ronnie Coyle, asking for more time to finish a tough assignment. For another assignment Ronnie sent me screenshots to explain something.
8. Deadlines come up quickly!
Keep track of what's due and when it's due. I printed off the course calendar, and I checked off the assignments as I completed them.
9. Don't leave the party early.
I remember leaving a summer picnic long before sunset because I had an assignment due. Plan ahead, otherwise you might regret signing up for the class.
10. Your grades matter!
Recently, my daughter was asked to submit her college transcript while interviewing for a job. Some employers and most schools will want to see your transcript when you're applying. The grade you earn in an online class will show up on your transcript, and that grade is just as important as any other. Make sure you put in the effort you need to succeed.
Once a mild-mannered reporter and editor, Joan Koehne has taken on the persona of her alter ego, Wonder Writer, saving the world one word at a time. In 2017 she went up, up and away to launch a writing services business, Writer to the Rescue, a division of Packerland Websites. A 2017 college graduate, Joan earned highest honors and the Marketing Student of the Year award.