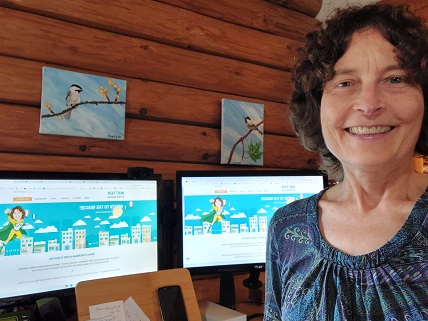 I just participated in a webinar that shocked me: "Will AI Tools Replace Salespeople?" AKA "Will AI Tools Replace Content Marketers like Me?" If it takes 15 minutes to write a blog versus 2 hours, why write a blog? Artificial intelligence allows you to type in several prompts which the bots use to churn out a first draft in moments. With a few more prompts, AI edits the blog to your liking. It's like having a copywriter at your side – a writing assistant with access to more knowledge than you could ever comprehend.
My mind raced: Should I use AI to write marketing content? Why not? How? But the thought that shocked me even more was this: Will my clients use AI instead of me? Is human writing, either ghostwritten or byline copy, now obsolete? Will I be out of a job?
AI Churns Out Marketing Material
In case you're new to AI, its use is already widespread. The webinar I watched focused on ways AI is used in sales. AI completes tasks like researching prospects, developing personas, and taking notes at virtual meetings. Additionally, AI produces content marketing material. For example, AI drafts emails, website content, social media posts, customer letters, product descriptions, blogs, proposals, marketing presentations, and on and on. AI can develop everything from a catchy subject line to a 600-word blog. Where does that leave me? Instead of fighting AI, it's best to leverage it instead. Let computers do what they do best, and humans do what we do best. Instead of comparing my worth to a computer's, I need to look at what value I bring to the table as a human being.
The Value People Bring to Marketing
First of all, as a professional writer, I understand the nuances of language. Because of this quality, my blogs and website content have a conversational tone. My writing encourages readers to settle in for a good read and hopefully, join the conversation. Words aren't used out of place, which is a telltale sign of computer-generated text. Second, my instincts allow me to write and structure text in a way that flows, transitions, and reaches the audience on a personal level. After 15 years working in journalism and marketing, I developed the intuition for writing in a way that people want to read it.
Original, People-First Content Writing
Third, my writing is original, not duplicated in hundreds of other places online. The anecdotes and brand messaging are mine or my client's, not computer-generated and impersonal. Google loves helpful, reliable, and people-first content. According to Google, original content is one of the key best practices to improve a website's Search Engine Optimization (SEO) and ranking on Google Search.
Creativity & A Personal Touch
Fourth, creativity is another advantage I have over a computer. Of course, marketing content isn't written like a poetry book or spy novel. Yet compelling creative writing trumps automated text every time. A human touch helps to engage a human audience. Along those same lines, a human writer builds rapport with an audience. From what I see, AI language models are getting really good at word flow and tone, but AI always struggles with personalizing content for a small businesses and organizations. Unlike AI, I can have a conversation with clients to get them thinking about a target audience, theme, and first-person accounts. I know my clients and their businesses, so I offer them a personal touch. Truly, that's a big advantage I have over AI. AI can't understand the person or organization I'm working with the way that I can.
Trustworthy & Authentic Interactions
When readers see my byline month after month, they feel a connection. As a writer and reader, we form a relationship. Of course, anyone in business knows the value of relationship-building. Computers can't show empathy or camaraderie like we can as humans.
Lastly and probably most importantly, is trust. Trust plays such an important role in starting and maintaining relationships. People buy from brands they trust, and authentic, personal interactions build that trust. AI isn't always good at differentiating between true and false information. I can ask AI to write an article, but the information in the article might be totally wrong. Erroneous information damages a client's credibility and destroys trust.
AI is a Tremendous Tool But Not My Replacement
So, despite my knee-jerk reaction, I'm confident that I won't become a dinosaur in the age of artificial intelligence and machine learning. AI presents tremendous tools for small business marketing and management, but AI isn't a replacement for the human marketing teams – or little ol' me. That's a relief! Let's get together, human to human, to talk about content marketing.
Once a mild-mannered reporter and editor, Joan Koehne has taken on the persona of her alter ego, Wonder Writer, saving the world one word at a time. In 2017 she went up, up and away to launch a writing services business, Writer to the Rescue, a division of Packerland Websites. A 2017 college graduate, Joan earned highest honors and the Marketing Student of the Year award.