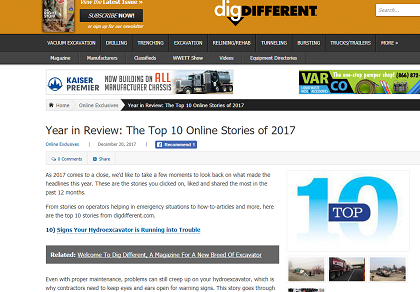 I don't run a vacuum truck or operate an excavator but I have other talents, like the talent to write magazine articles for these industries. As the Wonder Writer at Writer to the Rescue, I enjoy the challenge that each magazine assignment presents.
Magazine articles have common thread
Whatever topic or industry I'm covering, I notice a common thread: People are passionate about what they do. Connecting with people who are willing to share their success stories (and their struggles) energizes me. I feel obliged to put their words and experiences into magazine stories that will interest and inspire others.
One of my magazine articles cracked the Top 10 list in the DigDifferent.com Year in Review, coming it at No. 7. "Weighing the Pros and Cons of Expanding" was published in August and offered industry-tested advice from business owners who expanded their operations and watched their businesses grow. The start of a New Year prompts us to make resolutions and set goals, both personally and professionally. Is expansion a smart decision for you in 2018? According to hydro excavator Chris Angelo, you should ask this question: Do my clients need me to get bigger? Good businesses can pick up on clues to determine the equipment, technology, and personnel needed to fulfill their clients' needs.
Content marketing that sets companies apart
Packerland Websites picked up on clues from its clients when it added Writer to the Rescue as its content writing division in 2017. Clients needed well-written, engaging content for their websites. They needed press releases for newspapers and magazine articles for trade publications. They needed to tell their stories with originality, focusing on what sets them apart from their competition. Writer to the Rescue took flight to fulfill these needs and "Save the World One Word at a Time."
I invite you to check out the Top 10 stories at the Dig Different magazine website, Dig Different Top 10.
Once a mild-mannered reporter and editor, Joan Koehne has taken on the persona of her alter ego, Wonder Writer, saving the world one word at a time. In 2017 she went up, up and away to launch a writing services business, Writer to the Rescue, a division of Packerland Websites. A 2017 college graduate, Joan earned highest honors and the Marketing Student of the Year award.