Over the past 70 days I lived in a new world of healthcare appointments and medical treatments. I learned a whole new vocabulary and adjusted to a new routine. Because of these changes, I required extra TLC. Luckily, I had wonderful caregivers caring for me. This summer I learned some important lessons about caregiving.
Here are my 10 tips for caregivers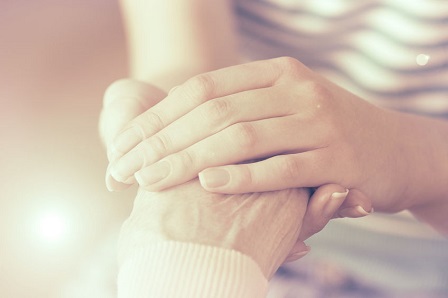 1. Walk my pace.
It's frustrating knowing that I'm not as peppy as I used to be. Likewise, it's frustrating to fall behind when I walk with someone. I'm grateful to the caregivers who naturally adjust their pace to match mine.
2. Crack a joke.
Laughter is the best medicine, so they say. Caregivers who make me laugh certainly brighten my day and focus my attention on something other than my own troubles. A sense of humor can bust even my darkest mood.
3. Let me sleep in.
Rest is a precious commodity as I'm recovering. Caregivers who close the blinds and stay super-quiet in the morning are the best. Starting the day fully rested helps me deal with whatever comes my way.
4. Surprise me with simple things.
Caregivers don't need to spend a fortune to make someone smile. Just the surprise of receiving something fun is enough. I'm a sucker for a box of animal crackers or a pack of my favorite gum. It was fun to hear my caregivers play a song they knew I'd like.
5. Suggest menu alternatives.
"What are you hungry for?" was a tough question to answer when I didn't have much of an appetite. Instead, I liked it when caregivers gave me a choice between a couple of menu options. "Do you want salmon or chicken for supper?" I could answer that question much easier.
6. Take notes at appointments.
This is a biggie. I sometimes hear only what I want to hear. By taking notes, my caregivers have a record of what my doctors say. I can look back and confirm what's true and what's just wishful thinking.
7. Write down my questions.
I have the doctor's attention for just a short time. It's too easy to forget what I wanted to ask about, and then the opportunity is gone. My caregivers added their questions, too, and wrote down the answers.
8. See what I don't.
Having an outsider's perspective is really helpful. Caregivers can catch me when I slip up, like when I made faces while listening to the nurse's instructions (which my son thought was rude). I think my emotions got the best of me.
9. Keep me on task.
My caregivers got me out the door on time for appointments. They made sure I took my medicine, got enough rest, and ate well.
10. Ask how I'm feeling.
My caregivers were so considerate. They couldn't always tell how I was feeling, so they asked me. If I wasn't feeling well, they gave me suggestions of what to do.
Contributing to my recovery
People say it's the little things that matter, and I think that's true for caregivers. I'm so thankful they were able to drive me to appointments, prepare meals, keep me company, and take care of household chores. My caregivers were an integral part of my recovery process. I salute them and all caretakers who unselfishly give of themselves to others. You rock!
Once a mild-mannered reporter and editor, Joan Koehne has taken on the persona of her alter ego, Wonder Writer, saving the world one word at a time. In 2017 she went up, up and away to launch a writing services business, Writer to the Rescue, a division of Packerland Websites. A 2017 college graduate, Joan earned highest honors and the Marketing Student of the Year award.