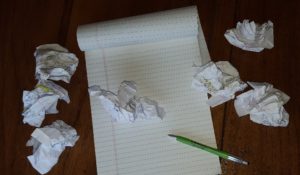 Do-it-yourself writing for websites sounds like an easy process, but it's fraught with pitfalls. Here are some common writing mistakes I see:
Mistake #1: Misspell Names of People and Places
You instantly lose credibility with your audience when you misspell the name of a person, product, company, or city. When readers come across a misspelling or another writing mistake, they wonder what else is inaccurate in your website content.
Tip: Double check the spelling of names with a trusted source. First names can be as tricky as last names, so be sure to check these, also.
Mistake #2: Fail to get a second opinion
Writing and editing go hand-in-hand. A good writer uses a process of writing, proofreading, fact checking, and rewriting, until a final draft is ready. The process doesn't end there, because no work is finished until someone reads it.
Tip: Before posting a final draft, ask colleagues to read your work and provide feedback. Their fresh perspective can make your content even better.
Mistake #3: Skip a final read-through
Slowly and carefully read through your final draft before uploading it to your website.
Tip: Read it aloud. This helps you find hidden errors. For example, I edited a professional bio that mentioned Northeastern Wisconsin Technical College. Did you notice the error in that sentence? I am a 2017 graduate of NWTC, and I didn't notice the Northeastern (instead of Northeast) in the bio until I read it aloud.
Mistake #4: Misuse bullet points
Bullet points are great for quick lists. The reader's eye is drawn to indented words and bold dots, so lists are ideal for engagement. Bulleted items let readers grasp tidbits of information at a glance.
Tip: For optimal comprehension, no more than 7 bullet points allowed. Also, bullet points should be brief: 1-4 words or one sentence each.
Mistake #5: Make grammatical errors
Improve the readability of your website content by using proper grammar. Here's an example of a grammatical error I came across recently: "We can special order anything your looking for." The word "your" should be "you're."
Tip: Microsoft Word provides a helpful tool; be sure to use the Spelling and Grammar check.
Mistake #6: Not contracting with Writer to the Rescue
Writing is my specialty! As the "Wonder Writer" I deliver a one-two punch: Strong writing skills and compelling marketing strategies. Writer to the Rescue produces professionally written magazine and newspaper articles, website content, ad copy, and more.
Tip: Avoid this common writing mistake. Contact me today at joan@writertotherescue.com or 920-639-1865 to get started on your next writing or marketing project.
Once a mild-mannered reporter and editor, Joan Koehne has taken on the persona of her alter ego, Wonder Writer, saving the world one word at a time. In 2017 she went up, up and away to launch a writing services business, Writer to the Rescue, a division of Packerland Websites. A 2017 college graduate, Joan earned highest honors and the Marketing Student of the Year award.