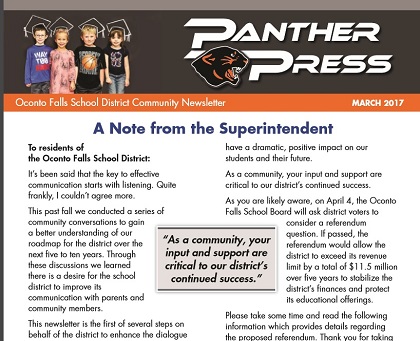 During the 2016-17 school year the Oconto Falls School District conducted a three-day conference called Destination Education. The conference brought together business owners, community leaders, parents, students, teachers and administrators in order to plot a path for the school district for the next 10 years.
---
Communication is key
One of the top take-aways from Destination Education was the need for better communication and a closer connection between the school district and its residents. Quarterly newsletters strive to achieve those goals. Newsletters allow the school district to effectively connect with people in the community, while sharing important news and information plus highlights of what's going on in the schools.
The school district utilizes the newsletter to reach residents who don't have children enrolled in the schools and residents who are less likely to go online to the district's website and social media platforms.
---
Educating voters
To kick off this new form of communication, the district focused on a pending referendum. The goal was to help district voters understand the financial needs of the district and learn about specific projects and initiatives, their benefits and the tax impact associated with an $11.5 million, five-year referendum proposal. The referendum was not only successful, it passed by a higher margin than expected.
The newsletter will continue to be an effective communication tool and serve to improve personal contact between the district and its residents.
---
Style elements
Highlights of the newsletter include the following:
 The information is presented in a clear, easy-to-understand format
 The font and style of the type make it easy to read
 The full-color design and graphic layout appeal to the eye
 The photos give readers an inside look into the schools
 The newsletter is integrated with the district's new district website,
---
Best of all, the district has a new way to reach out to the community and share the pride of its accomplishments.
Once a mild-mannered reporter and editor, Joan Koehne has taken on the persona of her alter ego, Wonder Writer, saving the world one word at a time. In 2017 she went up, up and away to launch a writing services business, Writer to the Rescue, a division of Packerland Websites. A 2017 college graduate, Joan earned highest honors and the Marketing Student of the Year award.