It's time to regroup from a hectic weekend; and what a weekend it was! Saturday night was spent at the 70th annual Alice in Dairyland finale at the Lambeau Field Atrium. On Sunday I celebrated Mother's Day and watched the Machickanee Players' performance of "The Odd Couple," female version.
Halfway through my weekend I noticed a theme developing – talented women are everywhere. I certainly saw my fair share on Saturday and Sunday.
Amazing on-stage presence
The six finalists in the Alice in Dairyland competition were outstanding; all were knowledgeable about agriculture and well-prepared for the competition. I marveled at how casually they took hold of the microphone and launched into their 5-minute talks, without the aid of notes. All six had college-level training in marketing or communications, and it showed.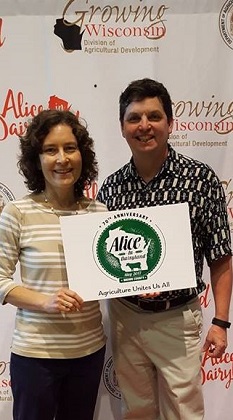 We heard two presentations from each finalist and a heartfelt, humorous farewell message from Ann O'Leary, the 69th Alice in Dairyland. During her reign she spoke to thousands of fourth-graders and answered questions like "Why is cheese yellow if milk is white?" and "Is your name really Alice?" Her response to the second question: "No, my name isn't Alice, but it would be a lot easier if it were!"
Crystal Siemers-Peterman of Cleveland will wear the tiara (bedecked with gems native to Wisconsin) as the 70th Alice in Dairyland. She begins a year-long, full-time job with the Wisconsin Department of Agriculture, Trade and Consumer Protection, travelling the state to promote Wisconsin's agricultural industry.
Comedic timing was superb
That brings me to another performance featuring talented women. Oscar and Felix were replaced by Olive and Florence in the female version of Neil Simon's "The Odd Couple," performed at the Park Avenue Playhouse in Oconto. The classic comedy about the mismatched roommates – one a neat freak and the other a slob – was both funny and poignant. I especially liked watching Olive, Florence and their four friends bond over their weekly Trivial Pursuit match-ups. They showed how female friendships can be cheeky and wacky, yet tinged with warmth and honesty. The cast pulled it off beautifully! I could just sit back, relax and drink it all in.
Moms have hidden talents
Mothers were the third set of talented women I came in contact with this weekend. The talents we share with our families day-in and day-out largely go unnoticed. Our contributions go beyond household chores and childcare duties. We give our kids support, show them our love, and most importantly, help them move out! But honestly, I love having the kids come home, whether for a weekend or a summer.
On Mother's Day, I was reminded of the time our college-aged daughter called home, saying she needed to talk to someone. "Aren't your roommates around?" I asked, clueless. I could hear the impatience in her voice as she said, "I want to talk to you!"
I didn't say any magic words or quote any great philosophers, but by the end of our conversation I'd said enough to put her life back on track.
That's a talent all in itself!