When a local funeral director rolled out a new identity for his funeral homes, I offered to help tell his story. One of the ways to get his message across is through monthly blog articles.
Why would a funeral home want to work with a blogger? Plenty of reasons.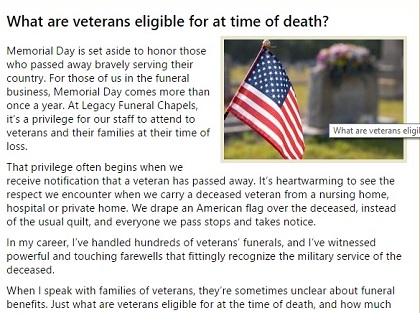 Tell your story
Blog articles help build brand recognition; in this case, for the recently renamed funeral home. The initial blog explained the changes taking place at two funeral homes now operating under one umbrella. Blogs allow businesses to tell the world what's happening: new products, recent acquisitions, leadership changes, etc.
The first-person blog I wrote about Legacy Funeral Chapel's changes was conversational and descriptive, honoring the history of the generations-old funeral home while emphasizing today's modern facilities and services.
Be viewed as an expert
Another goal of corporate blogging is to cement your status of authority in your industry. What business owner doesn't want to stand out as a leader in their field?
Take this sample blog as an example. Families of veterans are often unsure what benefits are due at the time of death. Turns out, they may be eligible for a whole slate of free services! The funeral home staff is a knowledgeable and helpful resource for this topic – and lots of other topics, which will provide plenty of fodder for blog posts in the future.
Get the message to your audience
Blogging isn't just about writing; it's about getting read. That's why I use the right keywords, posting strategies and search engine optimization techniques to help the blog get noticed.
Posting your blog articles to your website is a great social media marketing strategy. The infusion of original content provides more opportunities to convert visitors to customers. Blogs also enlarge a website, potentially improving its ranking on search engines.
Blogs are valuable if they focus on information customers really need. If a blogger provides valuable, relevant and compelling information, chances of resonating with an audience are good. When you resonate with your audience, you pick up sales.
When the time comes for someone to choose a funeral home, Legacy Funeral Chapels wants their name to come to mind. Blogging can help. Contact us to learn more.